February is usually all about showing your significant other that you love them, but we're looking to mix things up a bit...
For this new edition of our Fun Month Contest, we want you to take a picture of who or what you love the most and write 'I love _____' caption somewhere in or on the photo.
It can be a person, a place you've been, a food you enjoy, or it can even be a picture of yourself because self-love is great too!

Remember there are three rules:
• The photo has to be YOUR OWN
• It needs to have the 'I love _____' caption somewhere on the photo
• You also need to be somewhere in the picture as proof of authenticity

The top three pictures with the most votes will win big money prizes!

Have fun, be creative, and let's celebrate all the things you love this month ????

REMINDER: Content must be your own and will be reviewed for suitability/originality within 48 hours. Google or other website pictures are not allowed.
If we find out that a previously confirmed submission is fake, the photo and all of its votes will be removed and your account will be blocked so please only post your own pictures!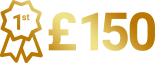 Winners will be announced in early March – good luck!
---